In this post you will discover Kenwood TK-840 specifications. Details and model identification as well as pinout, programming cables and everything else.
This is a small radio I discovered through a friend at the Buenos Aires Radio Club. Having been successful in programming some Vertex FTL-2011 and FTL-7011 I asked Ezequiel to lend it to me for a few weeks to see if I could program it and learn something along the way.
After that I decided to write this post, so others will benefit from my experience.
To my surprise there was not much information about the team, even the team itself did not have a label that will identify it, so I had to ask on a Facebook group. Luckily they were able to tell me what model it was and I was able to get to work.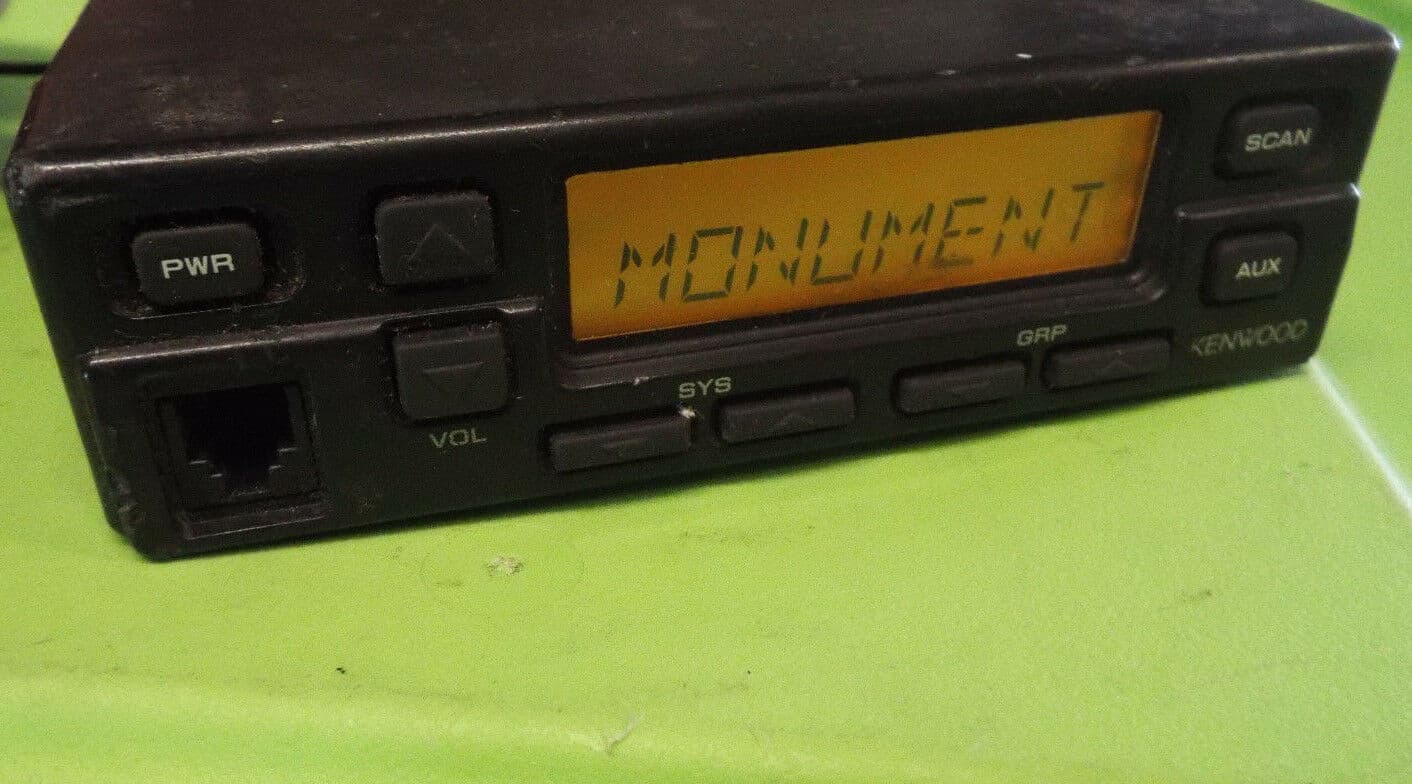 What I thought was going to be an easy thing turned into something of several weeks. Through trial and error, I was able to program it.
I publish this post so that if someone else has to do it, they won't go crazy like me.
Although this radio is discontinued, you can still find some used in good condition one eBay.
Kenwood TK-840 specifications
This rig was much more interesting than other commercial radios that I had on hand. These are some of its characteristics:
25 watts of power
32 groups or channel systems
250 channels for each group
Alphanumeric display
The alphanumeric display is very good and adds a lot to computers with so many channels. As you can see, it is a very versatile radio.
There are 4 different models of this radio divided by frequency ranges:
| | |
| --- | --- |
| Model | Frequency range |
| F1 | 450 MHz – 488 MHz |
| F2 | 488 MHz – 520 MHz |
| F3 | 403 MHz – 430 MHz |
The good thing about this radio is that from the programming software channels can be programmed from frequencies ranging from 403 to 520 MHz regardless of the radio model that we are programming.
Obviously if we run frequently enough the team is not going to perform in the same way.
As in most canal equipment of the time, it is impossible to know the frequency range of the equipment from the label placed on the bottom of the radio.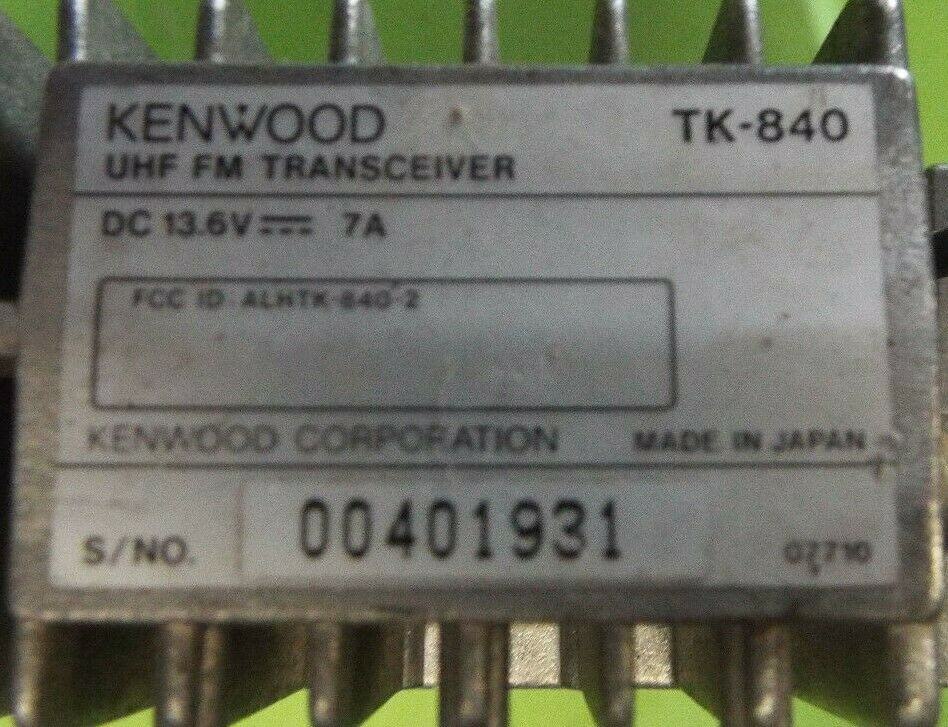 For more information you can download the Kenwood TK-840 user manual by clicking here.
In short, a very good radio for some amateur use cases that we already know:
Have the frequencies of nearby repeaters
Digital nodes for packet or APRS
Frequencies for meetings with friends
Kenwood TK-840 specifications – pinout and programming cable
In many of its models, Kenwood, sends voltage to the microphone for some special functions. The reality is that if one does not know well what the pinout is like and how Kenwood interprets it, we can have some problems.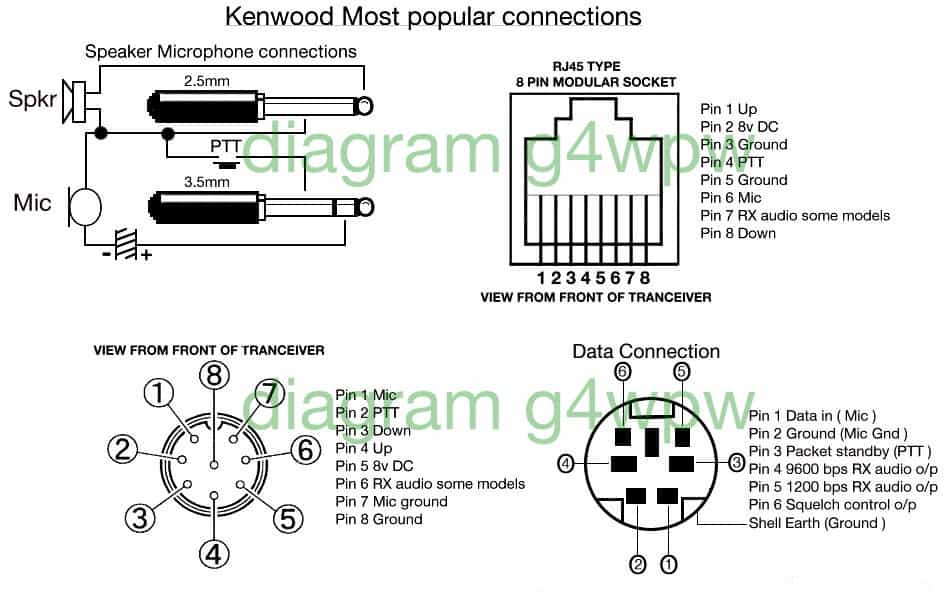 The microphone of the Kenwood TK-840 has a 6-pin connector and does not have UP / DOWN buttons, so from the diagram above we have to take pins from 2 to 7, transforming from 1 to 6.
In order to program the radio it is necessary to have a programming cable. Its model is Kenwood KPG-4.
Like any product of this level, it has a high price. So, I decided to make it myself.
At first, I started reference published on radioaficion.com, but I decided since it follows the original design of the cable and contemplates a DB9 connector, so I would need a serial port that I do not have.
I decided to look for an alternative using a USB-Serial converter. I found the design by DW1ZWS that although it is designed for the KPG-46 cable (8-pin RJ45), it can be built using a 6-pin connector.
Anyway, if you don't want to assemble the cable, and you want to buy it, you can search for it as KPG-4 on Amazon, eBay or even AliExpress.
Later I found that my 8 in 1 radio programming cable supports the Kenwood TK-840. Later I was able to reprogram the radio with additional frequencies using this cable.
Kenwood TK-840 specifications – checking out
Hope this post helped you discover the Kenwood TK-840 specifications no matter what use case you have. If you have any questions please add a comment below, new visitors will benefit from the public replies.