In this post I'm going to discuss Vertex VX-2200 specifications, and other important stuff about this commercial radio like pinout of the microphone connector. Also,you will discover how to identify the model of your radio and what you need to program it.
The VX-2200 is a robust radio that I have been using as an APRS iGate and packet radio for the last 8 years. Also, have been using it to access local repeaters.
You can still find and buy some on eBay to this day.
Vertex VX-2200 specifications – Front and rear panel
Vertex VX-2200 front panel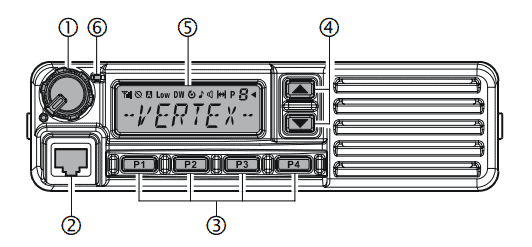 VOL/PWR Knob Turn this control clockwise to turn the radio on and to increase the volume. Turn it counterclockwise into the click-stop to turn the radio off
Microphone Jack Connect the microphone plug to this jack.
[P1] – [P4] Buttons (Programmable Function Buttons) These buttons can be set up for special applications, such as High/Low power selection, Monitor, Talk-Around, etc., as determined by your network requirements and programmed by your VERTEX STANDARD dealer.
[UP]/[DOWN] Buttons (Programmable Function Buttons) In the factory default, pressing either button changes the current channel (and displayed channel number or name). Holding in either button for more than 1.5 second causes the radio to begin stepping (repeatedly) upward or downward through the channels.
LCD (Liquid Crystal Display) The display includes a 8-character alpha-numeric section showing Channel name tags/identity information and error messages, and an upper icon row displaying feature status (see below).
TX/BUSY Indicator Indicates transceiver's Transmit/Receive Status Steady Red: Transmitting in progress

Steady Green: Signaling Off
Blinking Green: Busy Channel/Squelch Off
Vertex VX-2200 rear panel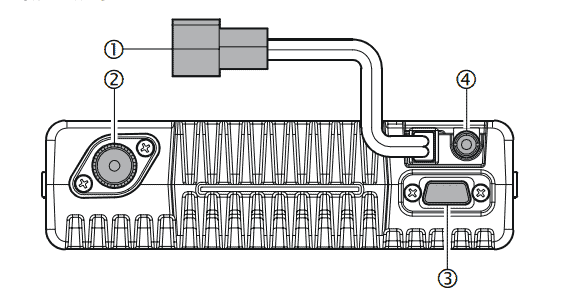 13.6V DC Cable Pigtail with Connector The supplied DC power cable must be connected to this 2-pin connector. Use only the supplied fused cable, extended if necessary, for power connection
Antenna Socket The 50-Ohm coaxial feedline to the antenna must be connected here, using a type-M (PL-259) plug.
D-Sub 15-Pin Accessory Connector External TX audio line input, PTT (Push To Talk), Squelch, and external RX audio line output signals may be obtained from this connector for use with accessories such as data transmission/reception modems, and external Channel control input etc.
External Speaker Jack An external loudspeaker may be connected to this 2-contact, 3.5-mm mini-phone jack.
Vertex VX-2200 specifications
128 Channels
25/50 Watts Transmit Power on VHF
25/45 Watts Transmit Power on UHF
Emergency Alert
Call Tones
Channel Scan
Dual Channel Watch
8-Character Alphanumeric Display
6 Programmable Buttons
Public Address/Horn Alert
Radio-to-Radio Cloning
Auto Range Transponding System (ARTS™)
MDC 1200 Compatible
Two-tone and Five-tone Codes
Dimensions: 1.8 x 6.5 x 6.1 inches (45 x 165 x 155mm)
Weight: 2.87 lbs (1.3 kg)
Antenna Connector Type: SO-239 (UHF Female)
Vertex VX-2200 – MH-67A8J Microphone and pin out
The standar microphone for the Vertex VX-2200 is the mh-67a8j. Additionaly, you could also use the MH-75A8J DTMF microphone.
In my experience, most vertex radios share the same microphone pinout. I used VX-2500 microphone's on VX-2200 radios without any issues.
You can check the pin out of the microphone on the service manual.
In case you need to get a new microphone, you can buy one on Amazon, Aliexpress or eBay.
Vertex VX-2200 specifications – Model identification
There are different models of this radio. For the VHF versions you can choose from different power outputs. For UHF versions, there are differences on frequency range and power output.
If you want to identify the model of your radio, turn your radio in order to be able to see its bottom. There should be a label under your radio that will help you identify the model.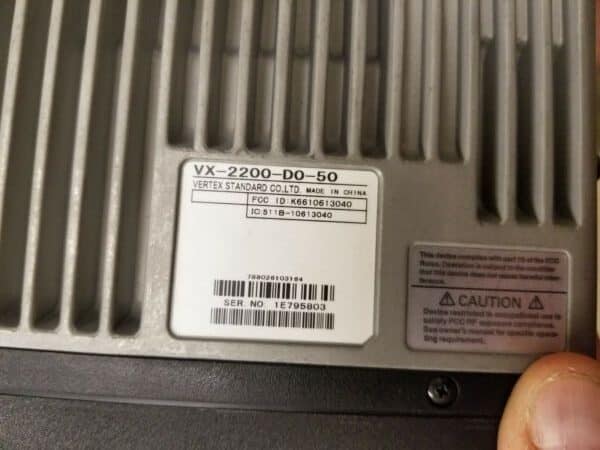 Take a look at this table and compare the model with the information provided on the label of your radio:
| | | |
| --- | --- | --- |
| Model | Frequency Range | TX Power |
| VX-2200-D0-25 | 134-174 MHz | 25 Whatts |
| VX-2200-D0-50 | 134-174 MHz | 50 Whatts |
| VX-2200-G6-25 | 400-470 MHz | 25 Whatts |
| VX-2200-G6-45 | 400-470 MHz | 45 Whatts |
| VX-2200-G7-25 | 450-520 MHz | 25 Whatts |
| VX-2200-G7-45 | 450-520 MHz | 45 Whatts |
Vertex VX-2200 specifications – Programming software and programming cable
In case you want to program your radio, you will need a programming cable and the appropiate programming software.
The cable you need to program your radio is the vertex CT-104.
You can also build yourself the cable using this schematic.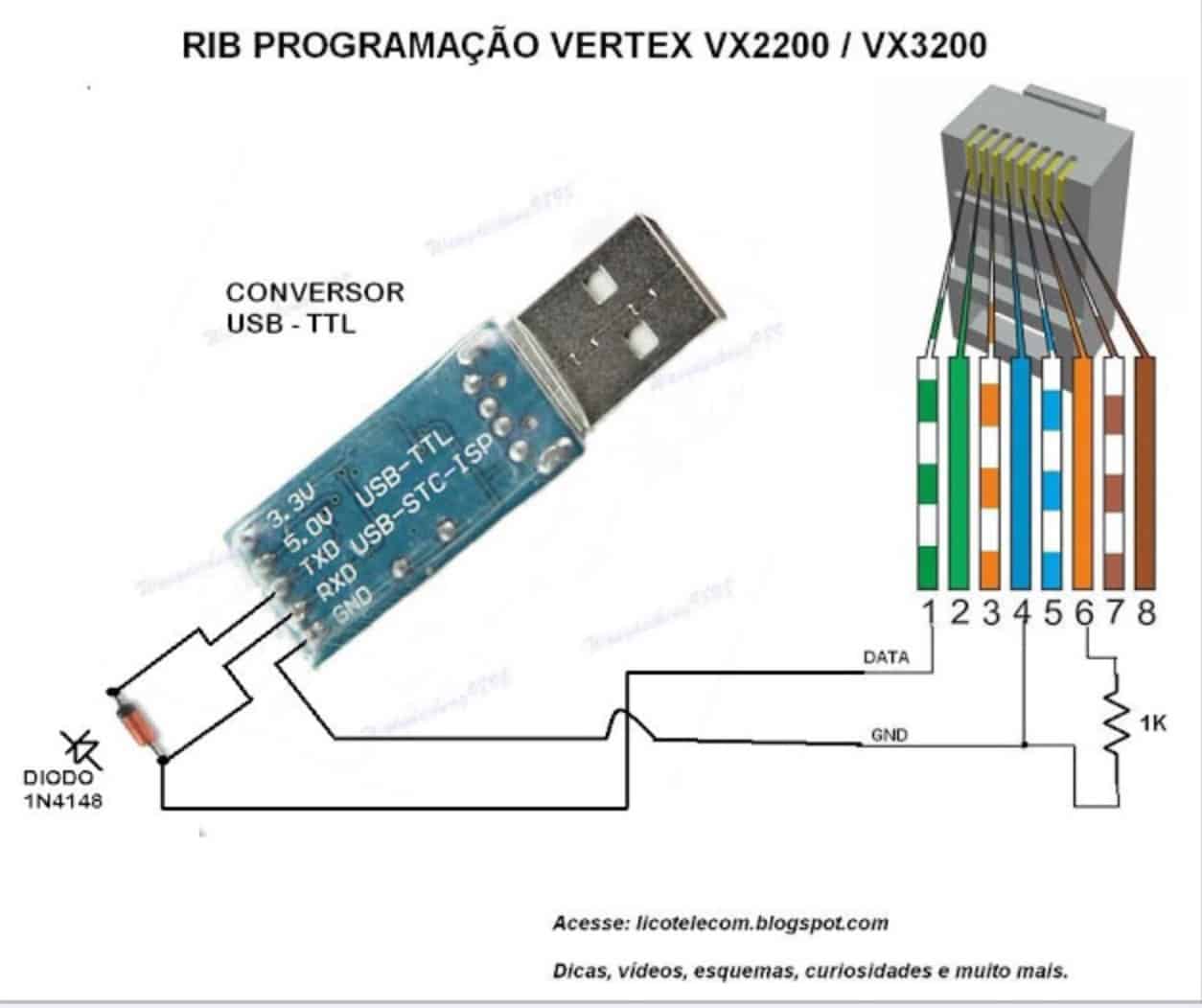 In my case I decided to go for aftermarket cables to program my VX-2200 radios. I own this programming cable and this programming cable in case you also want to follow my steps and get your own aftermarket cable.
According to the Vertex VX-2200 user manual, to program this radio you will need a programming software. The software is Vertex CE-82 and, in case you don't have a copy of this software, you can get one here.
For more information about this, read our Vertex VX-2200 programming guide.
Vertex VX-2200 specifications – Additional information
In case you need to get deeper information about this radio, here you have the vertex VX-2200 operating manual.
Additionaly, here you have the service manual of this radio.
Hope this post helped you know better Vertex VX-2200 specifications. If you have any questions please feel free to leave a comment below, the public answer will help new visitors in the future. Also, you can post your question on the Vertex radio user forum.