After a long time trying to get my hands on a Motorola PRO 3100, a good friend of mine lended me one a few weeks back. On this post I will share the Motorola PRO3100 specifications alongside some other information like model identification and programming information.
This affordable model includes limited signaling capabilities, two customizable function buttons, the ability to send pages and make phone calls, as well as an optional telephone style handset for convenient private radio conversations.
Motorola PRO3100 specifications – Front Panel
The front panel of this radio has only a few buttons and no display. Led indicators Indicates channel, scan, and monitor status.
The radio has two programmable buttons.Your dealer can program these buttons as shortcuts to various radio features,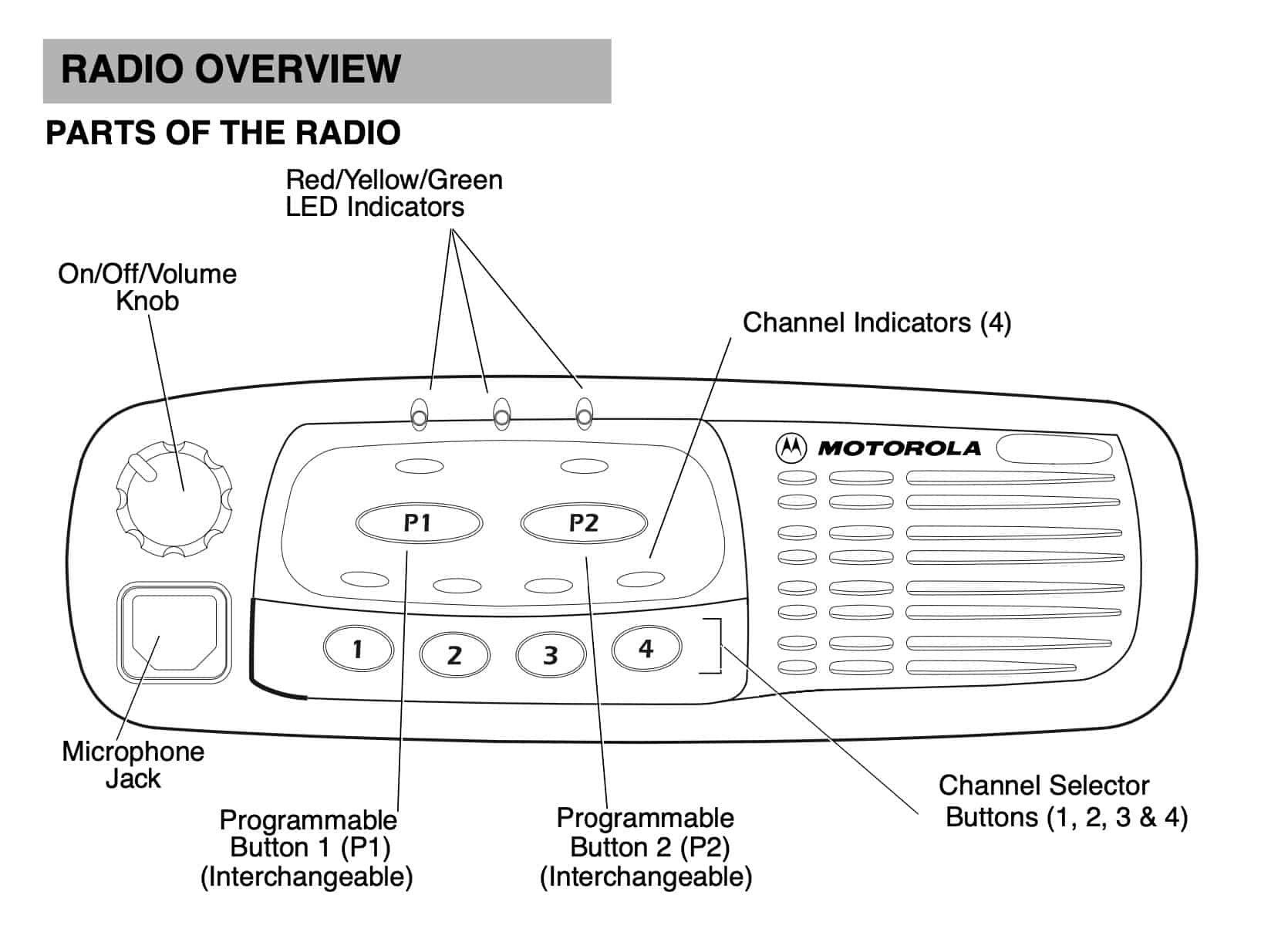 Motorola PRO3100 specifications – Back Panel
The Back Panel of the Motorola PRO3100 is very simple:
Antenna connector
Power connector
Accesory port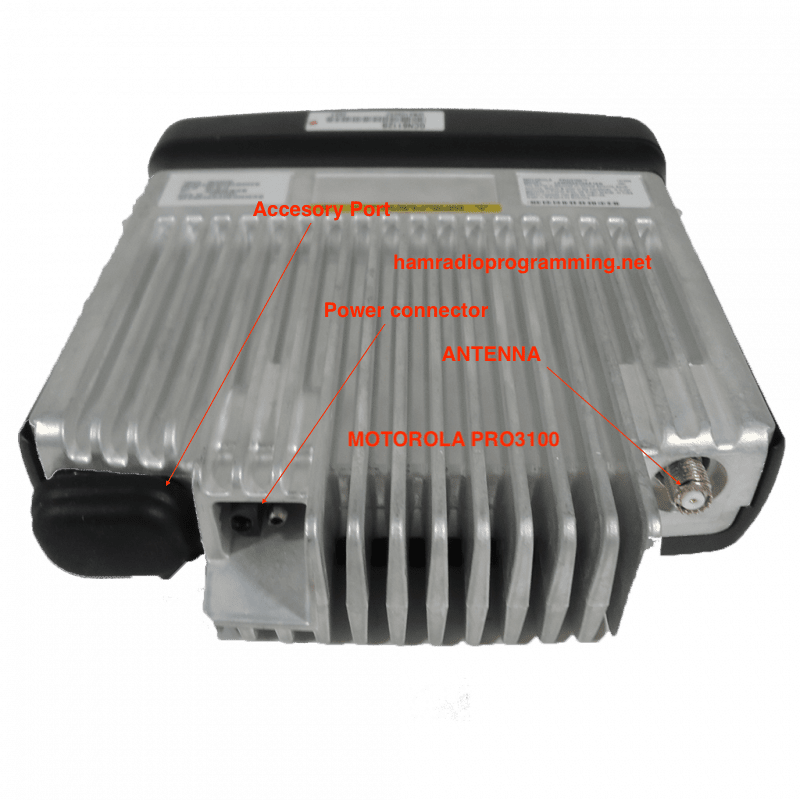 As many other Motorola radios from this generation, the antenna connector of the Motorola PRO3100 is a mini-UHF connector. Not very common around here so in order to use the radio got myself an adapter to UHF (SO239) connector. In case you also need an adapter, you can get one on Amazon, Aliexpress or eBay.
The accessory port of the Motorola PRO3100 is very versatile. You can perform many control operations from this port which will allow you to use for packet radio or APRS among others.
Motorola PRO3100 specifications
Single Priority Scan Enables you to monitor communications on different channels without having to manually switch to each channel periodically
Repeater / Talkaround Operation Allows unit-to-unit communications when you are out of range or the repeater is not operating.
Accessory Connector Bring your communications closer to the ear by attaching an external speaker. In even the noisiest environments messages can be heard clearly.

Motorola PRO3100 specifications – general information
4 Channels
PTT-ID (encode)
Selective Radio Inhibit (decode)
Monitor
Single Priority Scan
Busy Channel Lockout
Time-Out-Timer
Nuisance Channel Delete
Interchangeable Buttons (programmable)
CSQ / PL / DPL / Inv-DPL
Option Board Port
Frequency Range
VHF 136 – 174 MHz
UHF 403 – 470 MHz
UHF 450 – 527 MHz
Channel Spacing
Power Output
This radio comes in two versions, low power and high power.
Low power
High power
25 – 40 W (UHF)
25 – 45 W (VHF)
Motorola PRO3100 specifications – Programmable features
Some buttons can access up to two features, depending on the type of button press:
• short press—quickly pressing and releasing the programmable buttons
• long press—pressing and holding the programmable buttons for a period of time (default 1 1/2 seconds or programmed value)
• hold down—pressing and holding down the programmable buttons while checking status or making adjustments.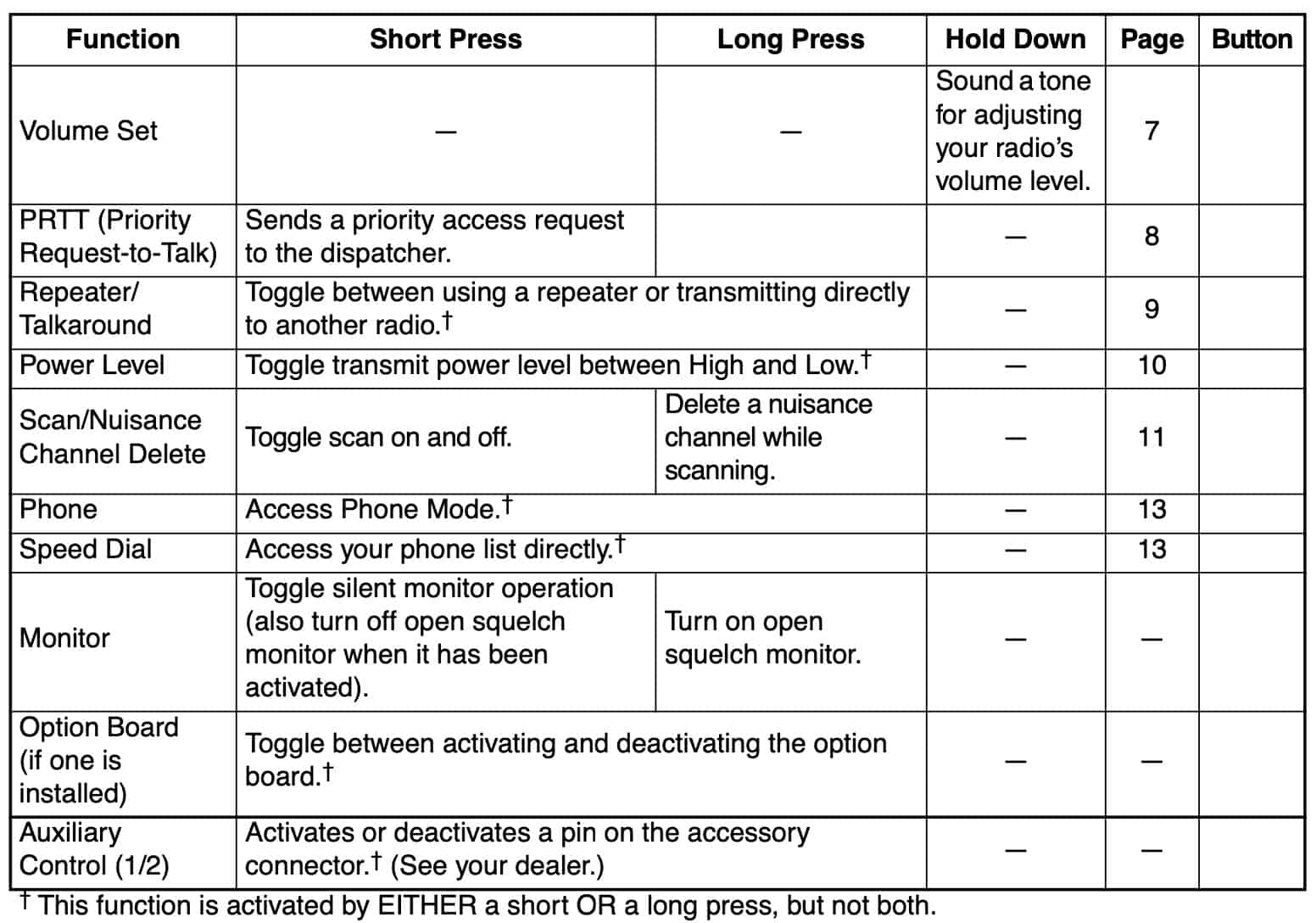 Motorola PRO3100 specifications – Model identification
There is a small label under the radio where you can find model information.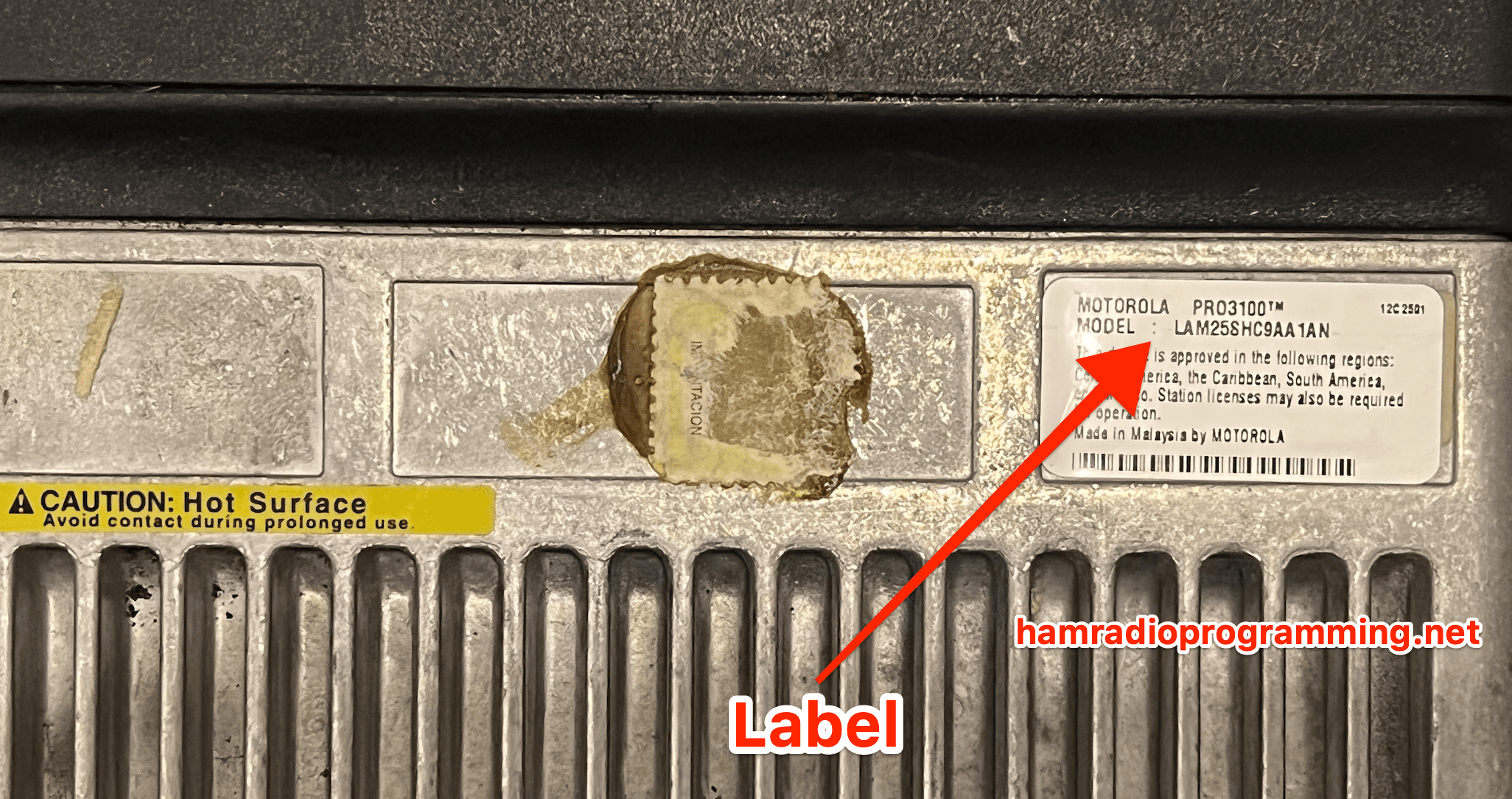 Use the following to identify which model of radio you have:
Internal Use Only
Type of Unit
Model Series
Freq. Band
Power Level
Physical Packages
Channel Spacing
Protocol
Feature Level
Model Revision
Model Package
AA or LA
M(for Mobile)
25
K VHF
(136- 174MHz)
H1-25W
C No Display, Basic Keypad
9 Programmable
AA Conven- tional
14F
A
N
B Low Band,
R1 (29.7- 36.0MHz)
K25-40W
A No Display
No Keypad
DU LTR
264F
C Low Band,
R2 (36.0- 42.0MHz)
D 1-Line Display,
Limited Keypad
DP PassPort and LTR
5128F
D Low Band,
R3 (42.0- 50.0MHz)
F 1-Line Display, Standard Keypad
PW1.5ppm
6160F LTR
R UHF1 (403- 470MHz)
8160F
S UHF2 (CDM: 450- 512MHz,
PRO, 1-25W: 450-527MHz,
PRO, 25-40W: 450-520MHz
For example:
LAM25KHC9AA1_N VHF 136-174 MHz 25 watts
LAM25RHC9AA1_N UHF 403-470 MHz 25 watts
LAM25SHC9AA1_N UHF 450-527 MHz 25 watts
LAM25KKC9AA1_N VHF 136-174 MHz 45 watts
LAM25RKC9AA1_N UHF 403-470 MHz 45 watts
LAM25SKC9AA1_N UHF 450-520 MHz 45 watts
This is the label present in my radio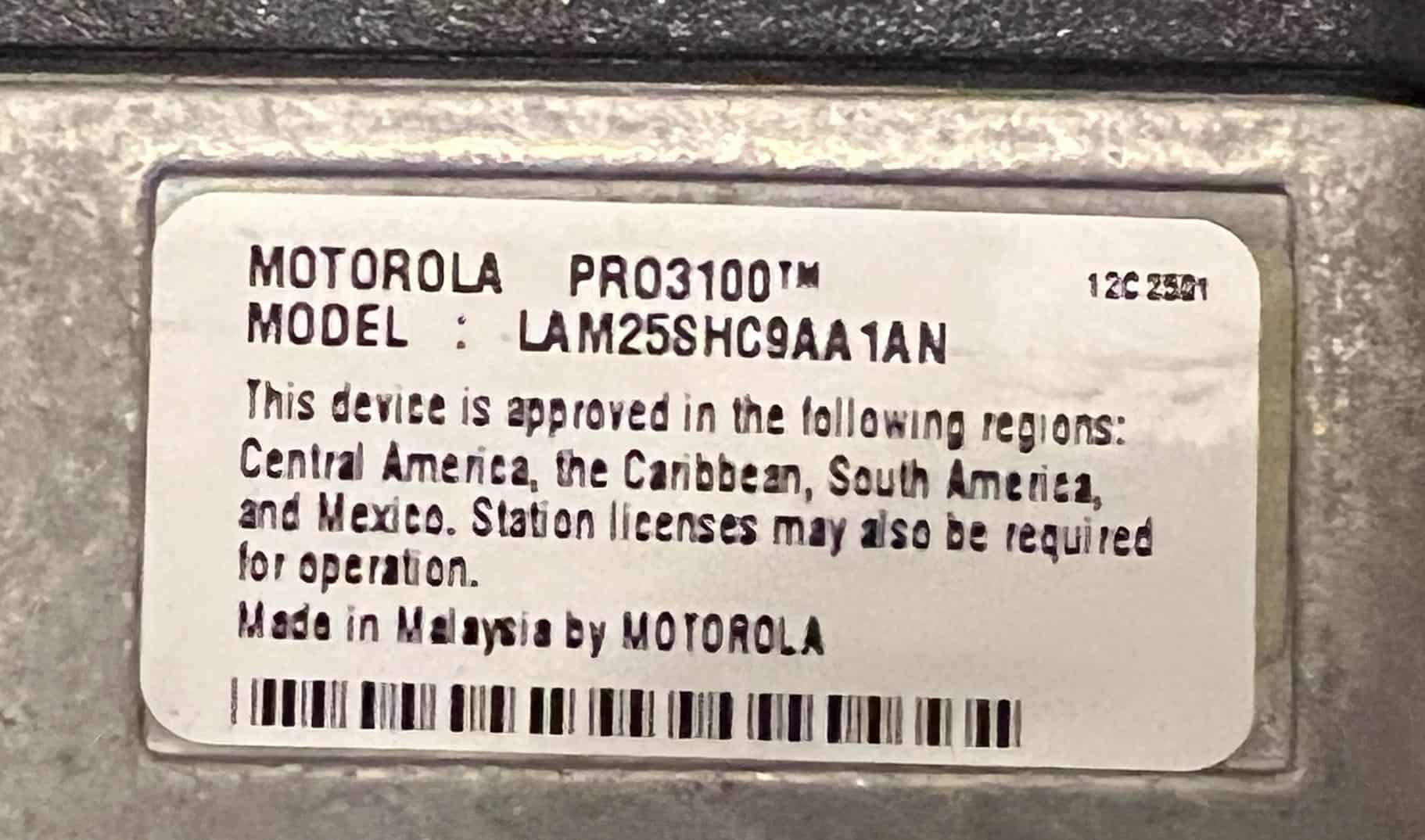 According to the previous information, my radio is a 450-527 MHz 25 watts radio.
In case the label of your radio is missing, you can try to read the radio using the programming software to get the model information. More on this later.
Motorola PRO3100 specifications – Programming software and programming cable
To program the radio you need a programming cable and programming software. If you need to buy a programming cable, and do not plan to work (program) other radios from different vendors in the future, go ahead and buy a programming cable on Amazon, Aliexpress or eBay.
On the contrary, if you plan to program other radio models or radios from another manufacturer, consider buying an 8-in-1 programming cable. I was able to program my Motorola PRO3100 using this cable which you can also buy on Amazon, Aliexpress or ebay.
The software needed to program the radio is Motorola CPS R06. There are several versions on the software and it runs from Windows 98 to Windows 10 in my experience.
Motorola PRO3100 specifications – Additional information
In case you need to get deeper information about this radio, here you have the Motorola PRO3100 user manual.
If you need to perform hardware or software adjustments on the radio, click here to download the Motorola PRO3100 service manual.
Also, here you have the Motorola PRO3100 brochure.
Hope this post helped you discober the Motorola PRO3100 specifications. If you have any questions leave a comment or post on the Motorola Radio User Group.