In this post you will discover Kenwood TK-7100 specifications. Details and model identification as well as pinout, programming cables and everything else you need to know about this Kenwood radio.
I got this radio from a very good friend I met at Buenos Aires Radio Club a few years ago. He had problems programming this radio so I took it home to give it a try.
Found out that programming a Kenwood TK-7100 is a very easy process which will be covered on another post.
Kenwood TK-7100 specifications
This radio allows you to progam 64 channels withing 8 groups. This is usefull for ham radio because you can use one group for repeaters, one group for specefic frequencies where you meet with friends and so on.
This commercial radio has a scanning feature that allows you to perform group scans and priority scans.
It complies with MIL-STD 810 standard including a bathtub construction heatsink which allows an excellent heat dissipation.
It includes a high quality speacker mounted on the front of the radio providing outstandin audio performance
it also includes several functions related to commercial radios which may be not so useful for ham radio like PTT-ID or Smart Trunk from Kenwood.
One I consider great on this radio are the backlit keys for every button. The function of each key can be programmed by software.
More common features are also included like Time out Timer (ToT) and radio password among others.
For those people who live in locations where narrow band is forced, you can program each channel for Wide or Narrow as needed.
Kenwood TK-7100 specifications – Model idenftification
Kenwood TK-7100 has two different models:
Type1: 146-174 MHz
Type2: 136-162 MHz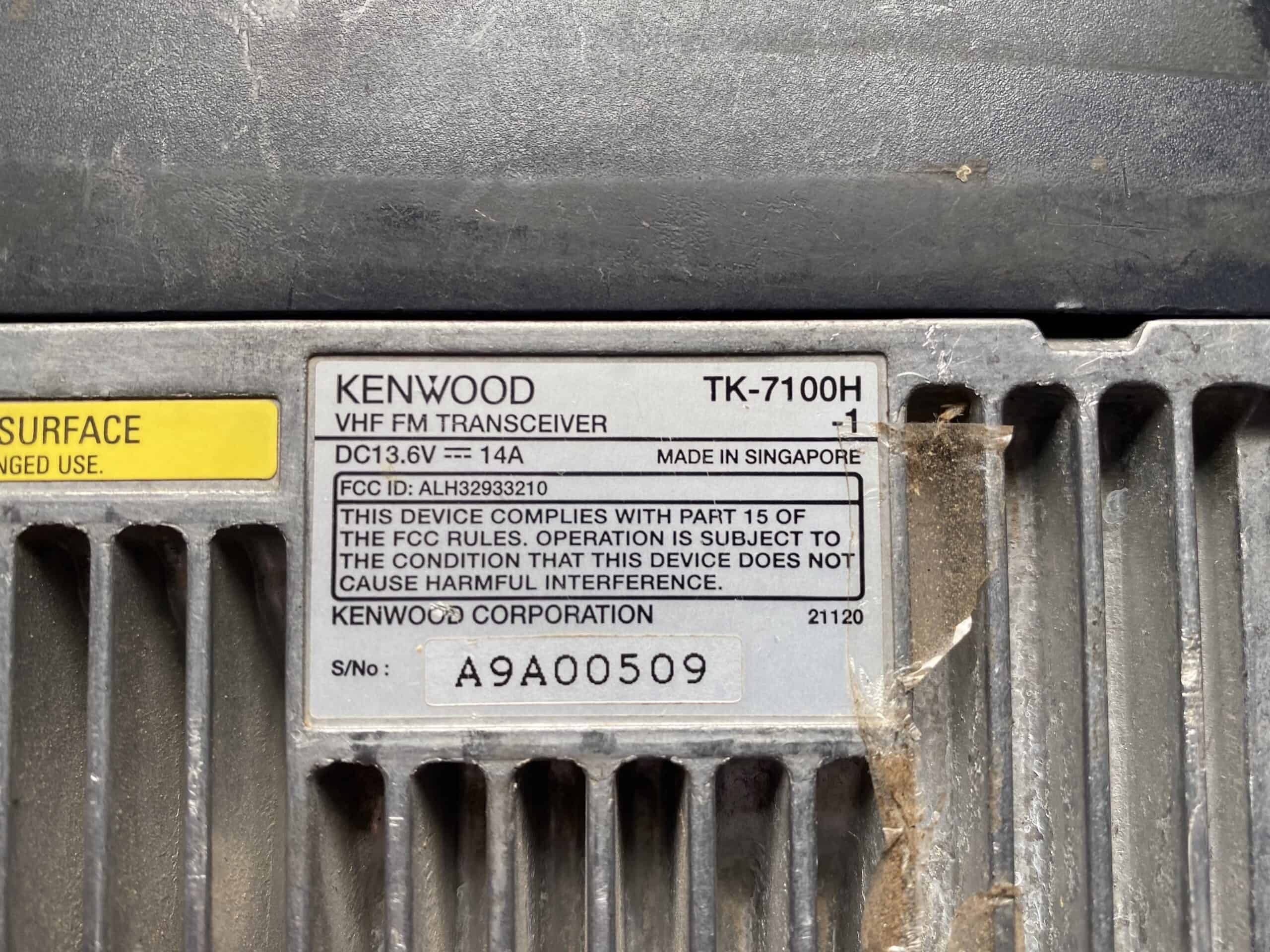 In the case of the previous image, the radio is a model 1. If you cannot identify the radio by its label, you can always check the FFC ID of the radio for more details at the FCC ID Search page.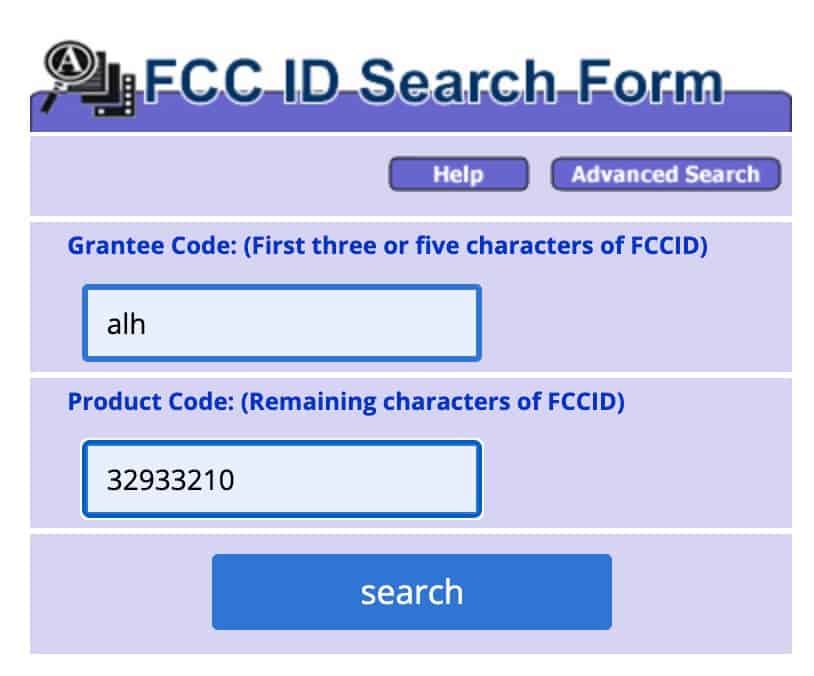 Kenwood TK-7100 specifications – pinout and programming cable
As many posts here in this blog I like to share the pinout of the microphone and the programing cable. This is because there is not a lot of information around about comercial radios and there are a lot of hams trying to use this radios for different reasons.
Supported microphones for this radio are: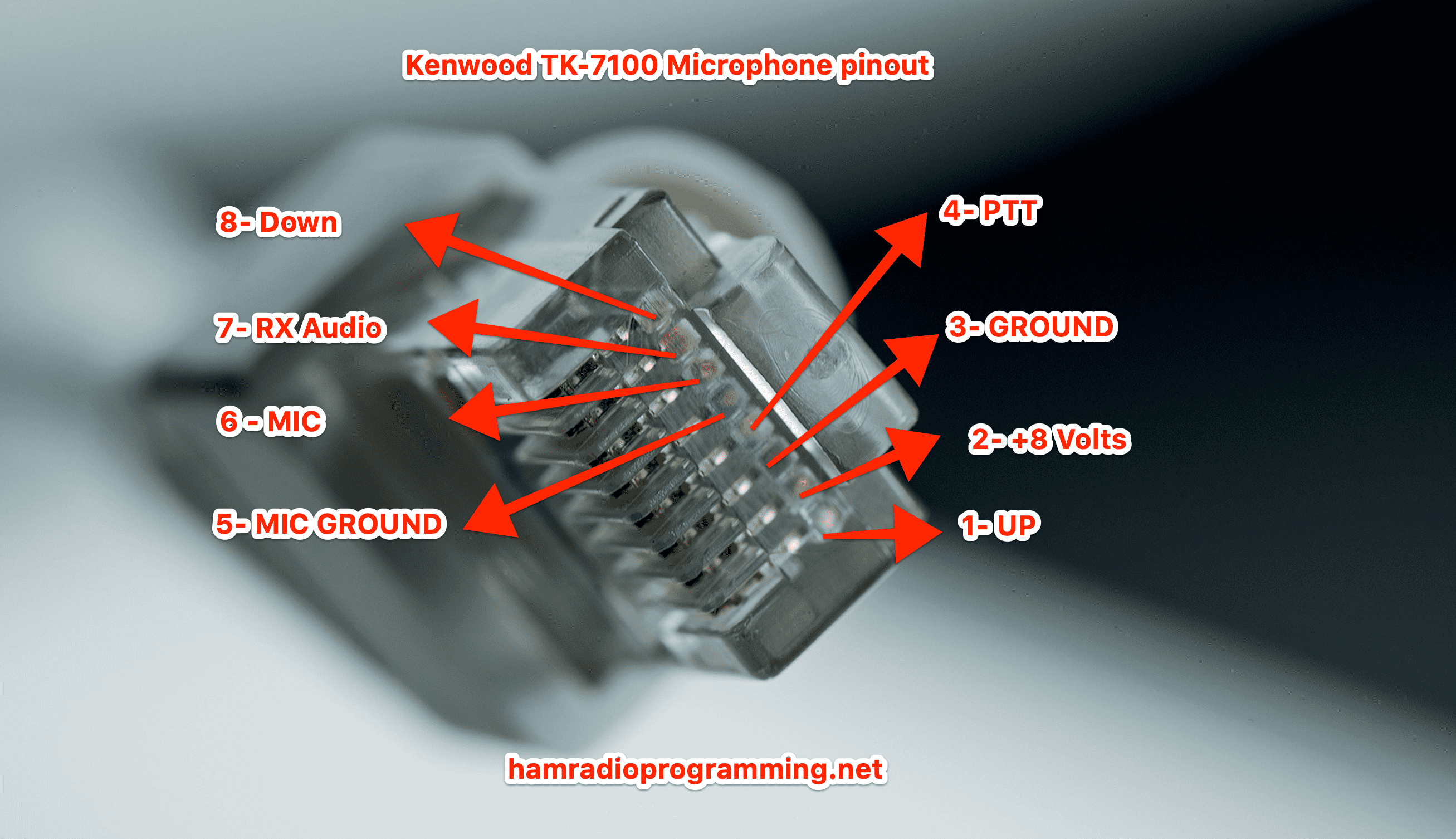 In order to program your TK-7100 radio, you will need to buy the Kenwood KPG-46 progamming cable wich you can find on Amazon, ebay or Aliexpress.
I was able to progam the radio using the 8-in-1 programming cable which I consider a much better investment because you can program other radios from different brands and different models.
This is a very easy to program radio. I will cover the full process on another post.
Kenwood TK-7100 specifications – Manuals
For additional information, here you can download the manuals of the Kenwood TK-7100:
Kenwood TK-7100 specifications – checking out
Hope this post helped you discover the Kenwood TK-7100 specifications no matter what use case you have. If you have any questions please add a comment below or visit our Kenwood user group forum.